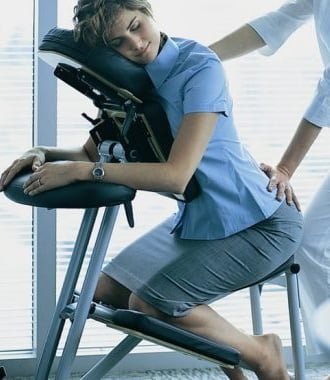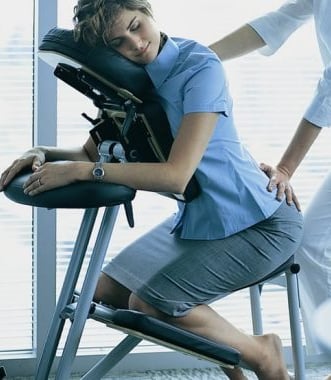 Chair Massage is similar to table massage in most ways, except that instead of laying on a table, clients kneel in a specialized chair equipped with a pad and face cradle to support their head and chest. Most chairs come with extendable armrests for enhanced upper bodywork, and they're fully adjustable.
This method also allows for a more public atmosphere during the massage itself; whereas privacy is required in other forms of massage because clothing are removed to create accessibility to certain areas of the body making it ideal for the workplace or events.
Mobile Massage
Hourly - $80
2 Hour minimum
Additional distance fee may apply.
Corporate or Event Massage When?
When owners or office manages want to develop a more productive workplace culture.

Monthly visits help retain employees reducing costs associated with finding and training new hires.

When you want your party or event to stand out by rewarding your participants and party goers with a massage!

When your wedding or wedding shower needs just a little more.
Corporate or Event Massage Where?
Offices

Shopping Malls

Conference Centers

Private Homes

Trade Shows

And much more...
SCHEDULE YOUR APPOINTMENT TODAY!